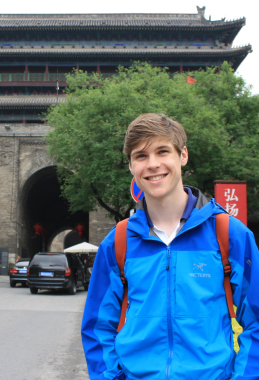 I'm interested in studying functional genomics using machine learning, as well as learning about ancient history from DNA. Check out my recent publications for more information.
I'm a student in the DPhil Genomic Medicine and Statistics program at the University of Oxford, jointly funded by the Wellcome Trust and the Clarendon Fund. I work at the Wellcome Centre for Human Genetics and Weatherall Institute of Molecular Medicine (WIMM) with my supervisors Gerton Lunter, Thomas Milne, and Jim Hughes. I graduated with an Honours BSc in Biomedical Science specializing in Biostatistics from the University of Ottawa in 2017.
Outside of work, I am an avid hiker, coffee enthusiast, and home baker (though the last is a work in progress).
我慢慢学中文在牛津语言中心。 我的女朋友是中国人,我们去了北京。
news
| | |
| --- | --- |
| Dec 4, 2020 | Presented my recent work on deep learning for MLL-r chromatin accessibility to the incoming DPhil Genomic Medicine and Statistics cohort. |
| Aug 1, 2020 | A research highlight of the stdpopsim project has been published in Nature Methods. |
| Jul 27, 2020 | I gave a talk to the EGHOP summer journal club on our ancient admixture preprint. |
| Jun 23, 2020 | stdpopsim has been accepted for publication in eLife! |
| Oct 9, 2019 | Our work on a paleolithic migration with smcsmc has once again appeared at Probgen, you can read the abstract here. |
| Aug 13, 2019 | I'm grateful for the support of the Victor Dahdaleh Foundation through the Canadian Centennial Scholarship program. |
| Jun 24, 2019 | I'll be visiting the Vector Institute in Toronto for the summer and working with the Morris group. |
| Jun 18, 2019 | We've released smcsmc, a program for inferring demographic histories from whole genome sequences. |
| May 24, 2019 | Some preliminary results from our attempt to understand cis-elements regulating RNA stability were presented at the Medical Sciences Doctoral Training Centre annual sympoisum. |
| Nov 1, 2018 | Two posters of our smcsmc analyses have been presented in quick succession at ASHG 2018 (by myself) in San Diego and ProbGen in Cold Spring Harbour (by Gerton). |
-->